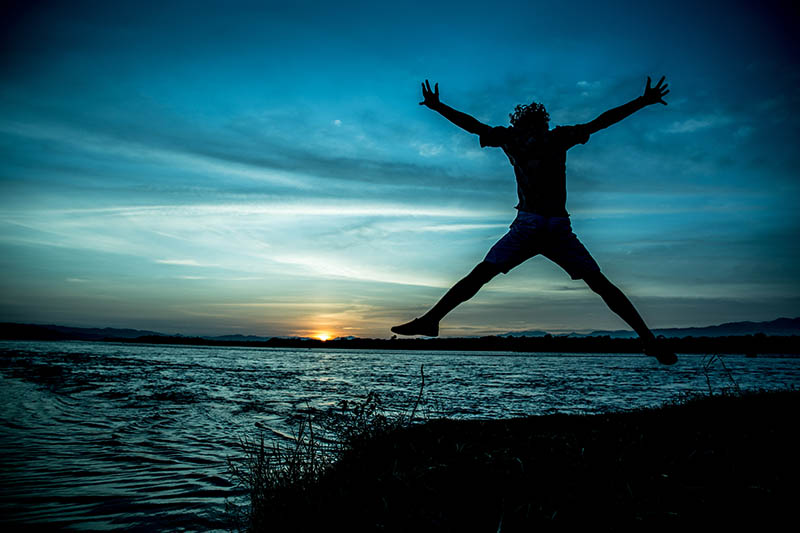 Two nights and three days in Meghauli, Chitwan!
We would like to thank everyone for assisting us in creating this video.
Special thanks to Mr. Arjan Pradhan, Ms. Pooja Rijal, Ms. Sapana Timilsina, Nepal.Nature (@nepal.nature) and to all the staffs of Sarang Wildlife Sanctuary for their great hospitality !
Taking a break is always a great idea and when visit Nepal 2020 is coming soon it adds another reason to travel. Well that's why we thought of escaping the city's hustle and planned a trip to Chitwan, hoping to cherish the adventurous side of the place and experiencing a great holiday.
Whether it be flying, driving, riding, or catching on a local/tourist bus always have a different stories but it is fun in its own way. We decided Meghauli this time and drove approximately 185kms, few stops in between for some food and nature calls, of course! After about 5 hours' drive we finally reached our destination – Sarang Wildlife Sanctuary; first time to Sarang but grateful that was a good choice.
It's was scorching HOT in Chitwan or maybe it was the drive, not sure! But it felt like to jump in a pool and grab a drink – that did come eventually not then, though! Anyway, we were warmly greeted at the lodge, Sarang offered us a cool drink – that was surely relaxing! Our luggage were taken to our rooms; 'thoughtful' that the temperature of the rooms were made perfect – just as our bodies wanted to cool off!
Brief to the rooms, it was beautifully designed, cozy rooms with a wonderful balcony which has a view of Chitwan National Park. After a quick refreshment, we roamed around the lodge, and confirmed ourselves to swim in the evening enjoying a drink at the Swim-up bars; for the time being, however we stayed at the restaurant's bar playing a bit of a snooker.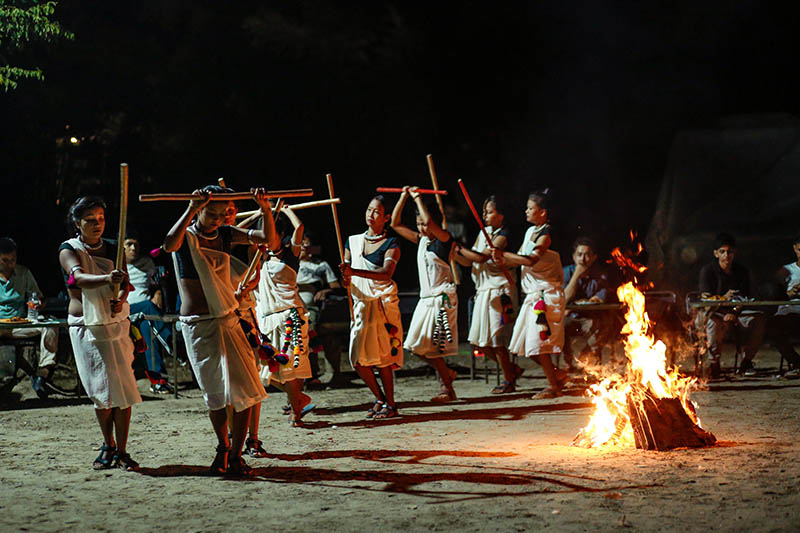 The evening was good, nice Tharu dance and great food. And there was Ghonghi – Has anyone tried it? At least was our first time, it was good to our taste buds but everyone has a different choice! Well then after a bit of dance with the Tharu dancers, the night came to an end with a dinner. Oh wait! The night begun with the pool actually; it was a nice relaxing plunge with a chilled drink – that's what we call a holiday 😉
Next day was planned for an adventurous day – Safaris, canoe, day with an elephant and many more. For the best view we were advised for an early morning safaris but it rained so bad, we had to re-schedule the timings. But nevertheless, we did manage to carry all the activities!
After a quick breakfast we went to visit the elephants – where they were kept. They were happy looking elephants but as a massive being it had to be in their boundaries. Later that day we spent a time with those beautiful creatures in the water – playing with them, talking with them and even posing a photographs with them.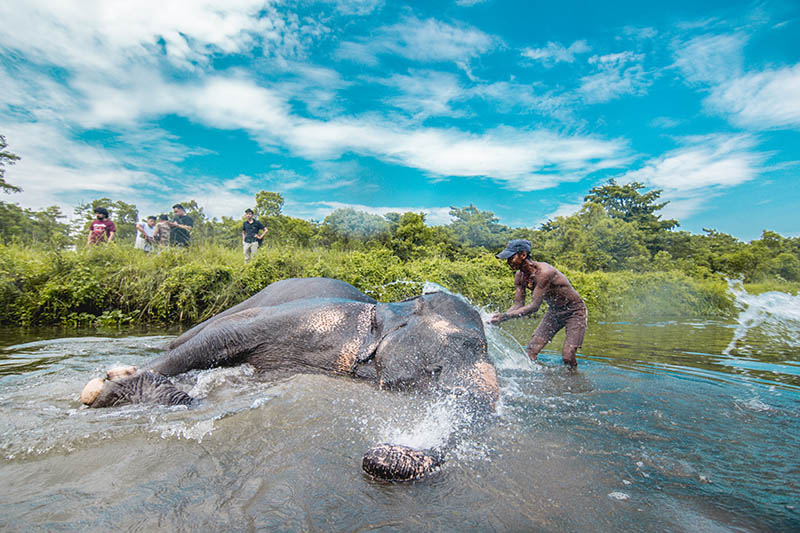 Chitwan and Safaris being a synonyms kind of, we had the option to go for a JEEP SAFARI – the real time to shoot animals with a camera ;). Rhinos, deer, birds, and many on sight, sadly, we couldn't see a tiger. However, the Good news is the tiger numbers are increasing – it's always a matter of luck (or may be some good season) to witness the TIGER, unfortunately, our camera couldn't get it this time.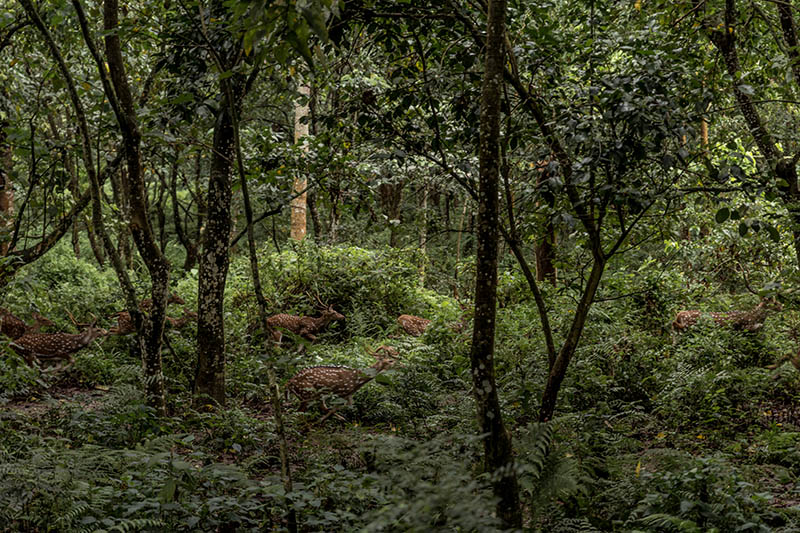 Safari did make us tired and hungry, so it we came back to the lodge to grab our lunch. Reviewed our photo and played a bit of a snooker as we were called for a Canoe. The ride was with the crocs – I mean we could actually see them, sounded scary but it was interestingly fun. With around 40 minutes of canoeing, we stopped by and sat beside the Rapti and Narayani where a little surprise was awaiting for us. Sarang managed to set up a mini bar, and offer light snacks, out of nowhere, undoubtedly, we enjoyed the mesmerizing view of the Sunset.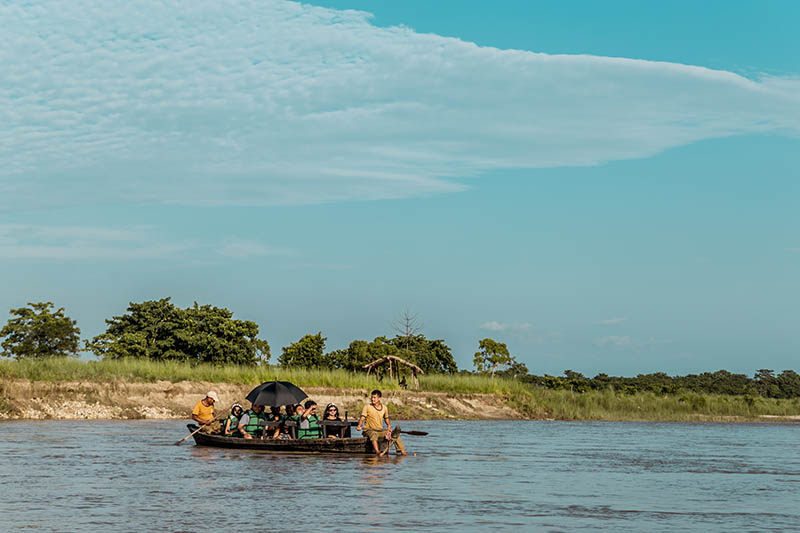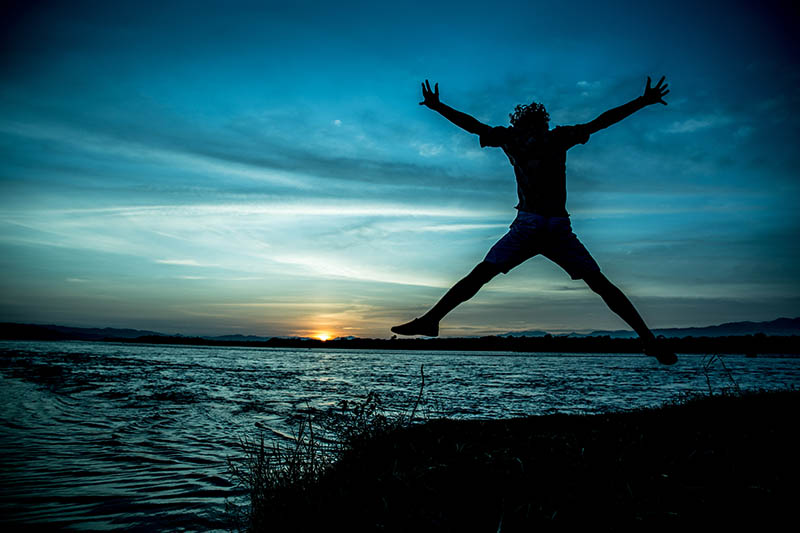 We then came back to the lodge, got refreshed and were invited for a BBQ at the pool; Oh! What an end to a fantastic day. Food, drinks, pool, music and good times. Thanks Sarang, for making our trip memorable!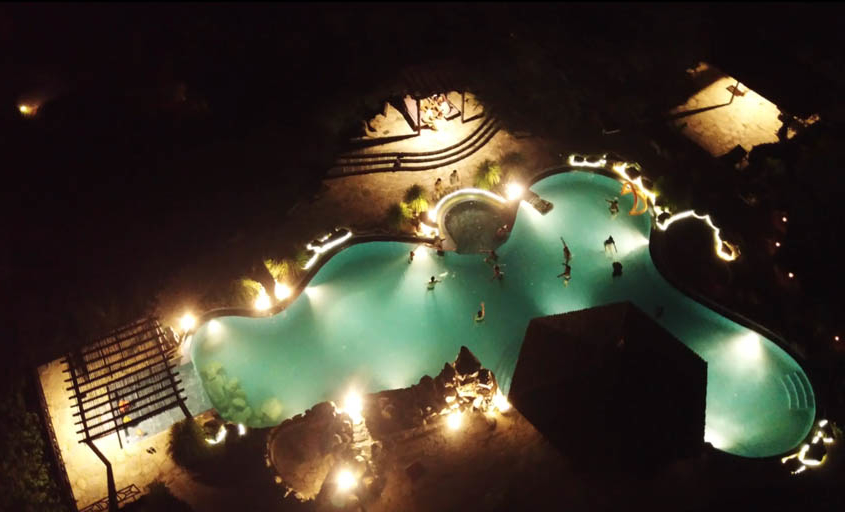 The final day was getting back to the city with all the memories captured.
So are you ready to go an adventure or a relaxing gateway? Chitwan indeed is a great place. For an adventurous mood, you can choose to safari in the nature, shoot animals and birds with a camera, play with elephants, and canoe with some crocs or chill by the sunset with your favorite drink. And if you just want a calm night, you can always enjoy a local food, Tharu dance and plunge in a pool with a beer or anything you drink 😉 For us Sarang Wildlife Sanctuary offered it all; we had a great time there.
Thanks again Sarang, for every little gestures, it did make our trip wonderful!
FOR ANYONE INTERESTED, HERE'S A BRIEF INFO OF THE SARANG WITH FEW PHOTOGRAPHS
Location: Meghauli, Southern Nepal
Distance from the K-city: 175KM (approx.)
Rooms: 24 deluxe rooms
Activities: Jeep Safaris, Canoeing, Day with an Elephant, Tharu cultural Dance and many more
Tariff: Starting at Rs.5500 per couple per night [please get in touch with Sarang for exact rates]
Contact Numbers: 9808 63 1155
Website: www.sarangwildlife.com
Email: [email protected]
https://directionkathmandu.com/wp-content/uploads/2019/09/sunset-sarang.jpg
533
800
Direction Kathmandu
https://directionkathmandu.com/wp-content/uploads/2019/10/Logo.png
Direction Kathmandu
2019-09-16 01:10:50
2022-03-13 10:05:23
Two nights and three days in Meghauli, Chitwan!