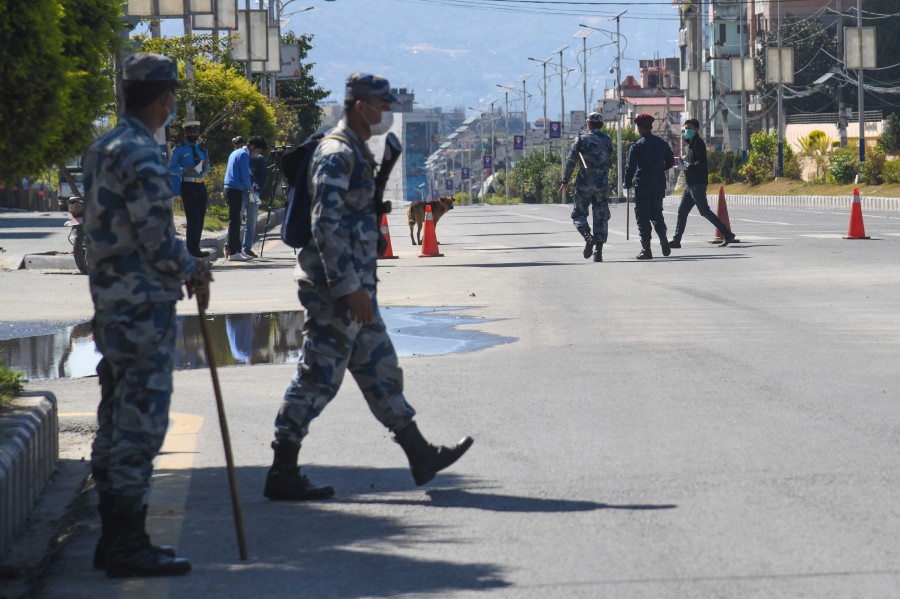 Government is preparing to extend the lockdown by at least one more week
Given that the incubation time for the virus is 14 days, the lockdown could last for at least one more week, according to Health Minister Bhanu Bhakta Dhakal.
Six days into the seven-day nationwide lockdown, the government has begun necessary preparations to extend the lockdown citing the increase in the number of new cases of Covid-19.
A Sunday meeting of the high-level coordination committee led by Ishwar Pokhrel will discuss the matter and will forward the extension proposal to the Cabinet, Surya Thapa, press advisor to Prime Minister KP Sharma Oli, told the Post.
The Cabinet is set to meet in the evening and will assess all the situation across the country, and other progress being made in preparation to combat Covid-19, said Thapa.
According to one minister, despite some sporadic incidents of people disobeying the nationwide lockdown, it has been largely successful, which has led the Pokhrel-led committee to mull extending the lockdown for a week, beginning March 31, Tuesday.
The committee will also come up with provisions to ensure that people have access to daily essentials, along with coming up with measures to support daily wage earners and other economically vulnerable groups.
Health Minister Bhanu Bhakta Dhakal said that the government would take necessary decisions to continue with the lockdown a day before the week-long lockdown comes to an end.
"We are considering continuing with the lockdown for at least one more week," said Dhakal. "Since the quarantine period is 14 days, we are thinking of going for at least 14 days of lockdown."
Source: The Kathmandu Post
https://directionkathmandu.com/wp-content/uploads/2020/03/lockdown-Nepal.jpg
599
900
Direction Kathmandu
https://directionkathmandu.com/wp-content/uploads/2019/10/Logo.png
Direction Kathmandu
2020-03-29 10:45:08
2022-03-13 10:05:23
Government is preparing to extend the lockdown by at least one more week